Berkshire Elder Law Center Professionals
It is important to know the background and qualifications of any attorney who may be doing work for you. More importantly, does that person enjoy the work that he or she does and why do they do it?
Jim Sisto - Elder Law Attorney & Real Estate Attorney: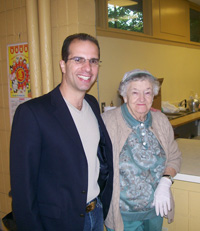 Prior to moving to North Adams in 1990, I was a tax consultant working for a large accounting firm in NYC at the World Trade Center on the 101st floor. I commuted from the Bronx by subway everyday which was an adventure in and of itself. I had no great love for the stress and pace of working and living in NYC and decided to move to someplace a lot different. I was born in the Bronx, but grew up in White Plains, NY, a suburb 45 minutes north of NYC.
Prior to starting my own practice in 1998 in North Adams, I worked for 7 years as an estate planning and real estate attorney for a small Pittsfield law firm but I also did a lot of everything else, divorces, litigation, debt collection; things which I had no great fondness for. When I decided to start my own practice in North Adams, I promised myself that I would only practice in the areas I enjoyed. I was seeking to enhance my "quality of life".
That's when I established the Berkshire Elder Law Center, PC where I practice in the areas of real estate and estate planning with a focus on the those issues affecting the elderly. Basically, I am an elder law attorney with an extensive real estate practice. I find it more enjoyable to practice in these areas because the clients for these matters are far more appreciative than divorce and litigation clients. I love working with the elderly. This is probably the result of the great relationship I had with my grandmother who past away in 1993 after suffering from Alzheimer's disease. For those of you seeking my academic background, please keep reading.
Upon receiving my law degree from Duquesne University in 1986, I worked as a tax consultant for the accounting firm of Deloitte and Touche. I am a certified public accountant and received a Masters in Law in the area of taxation from New York University Law School in 1991.
I am a frequent guest speaker for various senior centers, nursing facilities and community organizations throughout Berkshire County and regularly appear on the Berkshire Broadcasting radio station, WNAW (AM 1230) and local cable access channels where I present topics on estate & medicaid planning, hospice planning, elder financial abuse and on long term care insurance. I also teach continuing education classes for real estate agents and first time home buyer seminars.
My FREE REPORTS provide answers to frequently asked questions about estate & medicaid planning and and he publishes a free newsletter entitled Elder Helper, designed to inform elders and those professionals dedicated to serving them about a variety of elder issues. I'm available at no charge, to make presentations to elder organizations & community groups.
In addition to estate planning and elder law, with services ranging from simple wills to the more complex planning for larger estates. My firm also handles guardianships and probate/trust administration cases.
Staff Profiles:
Coming Soon!