Medicaid
"I AM DEDICATED TO PROTECTING YOUR HOME AND SAVINGS"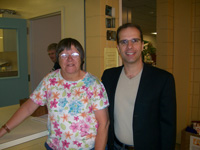 As the population continues to age, it is inevitable that more and more people will need nursing home care or substantial services in the home. The average cost of a nursing home in MA is $10,000 per month. 24 hour care at home may cost even more. Are you prepared for you or your loved one to go into a Nursing home? Follow the link for more information.
Most of my clients' are concerned with protecting their life savings for their future care and security. They want to ensure that their quality of life will not be diminished and possibly, to pass on an inheritance to their loved ones. Is this possible? Yes, but due to changes in the medicaid laws, its more important to plan early.
Medicaid Application Process:
Medicaid is the federal program implemented by the states to provide long term care services to those who meet certain medical and financial requirements. In Massachusetts, this system is referred to as the MassHealth program. To become medicaid eligible you literally have to spend your life savings to qualify. That includes, bank accounts, certificates of deposit, stocks, mutual funds, bonds, retirement/IRA accounts, cash values of life insurance policies and more! See the dollar limits listed below.
Applying for medicaid is a long and tedious process filled with traps for the unwary. The process has become even more difficult since the recent law changes increased restrictions that make eligibility even harder. Frankly, most of our clients are all to happy to have me and my well trained staff perform this service.
For more information protecting your home and savings, and Medicare, follow the links, or contact us. You can also read my newsletter, "The Basics of Medicaid" for an abbreviated version of the rules.
Protecting Your Assets:
Planning early is the best way to protect your assets. By using trusts, spend down strategies, annuities, real estate transfers (more about Life Estates here), obtaining veteran's benefits and, by taking advantages of various exceptions to the rules, we have met our clients' expectations of protecting their assets for their care and security. Often times, when a family finds that a loved one has a terminal illness, the security of the surviving spouse is overlooked. There are methods to protect all assets for the surviving spouse in some circumstances. I also have newsletters on "Hospice Planning", and why you should speak with an Attorney about Hospice Patients and their families.
Medicaid Dollar Limits (2019)
Individual Resource Allowance $ 2,000
Community Spouse Resource Allowance $126,420
Personal Needs Allowance $ 72.80
Monthly Maintenance Needs Allowance (Minimum) $ 2,057
for Spouse at Home (Maximum) $ 3,160